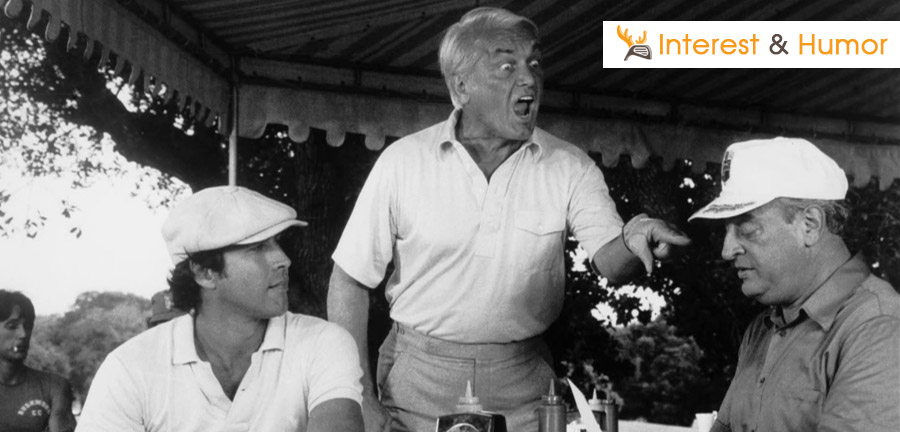 Three Things That All Golf Movies Have in Common
We all love a good movie about our favorite sport. Have you noticed the commonalities of these movies?

The first thing all golf movies have in common is an underdog. From Happy Gilmore trying to raise money for his grandma's IRS bill, to Danny Noonan's (Caddyshack) trying to win Judge Smails' Caddy Scholarship, there is always the underdog: the player that just doesn't belong.
The second thing all golf movies have in common is the PUTT to WIN. Seriously, all the movies listed below have a putt to win. The hardest of them being when Happy Gilmore makes a putt off a VW Bug windshield combined into the TV announcer's tower that it crashes into.
The third thing all golf movies have in common is the over-the-top antics. Normally, you don't see caddys smoking or dancing in the fairways like in Caddyshack. Players on the tour don't get big checks to take home like in Happy Gilmore (although Kyle Thompson did) or get in fights on the course.
Caddyshack (1980)
Danny Noonan works as a caddy at the upscale Bushwood Country Club, to raise enough money to go to college. With Bill, Chevy, Rodney and Ted, the casting here is unmatched. Danny hits a putt at the end to win $80,000. In today's dollars that is worth over $240,000!
Fun Fact – This is Tiger Woods' favorite movie of all time
Favorite Quote – "This is your wife, huh? Hey baby, you must've been something before electricity." — Al Czervik (Rodney Dangerfield)
Happy Girlmore (1996)

 Happy (Adam Sandler) needs to pay the $270,000 in back taxes before his grandma's house is taken by the IRS. Between Happy and his arrogant pro tour nemesis Shooter McGavin, this is one of the best golf movies of all time. The casting is deep, including: Lee Trevino, Bob Barker, Carl Weathers (Rocky), Julie Bowen (Modern Family), Christopher McDonald (Shooter), and Ben Stiller.
Fun Fact – Product placement is large in this film: Diet Pepsi, Pepsi, Pepsi Max, Subway, Budweiser, Michelob, Visa cards, Bell Atlantic, AT&T, Sizzler, Wilson, Golf Digest, ESPN, and Top-Flite.
Favorite Quote – "I don't want a piece of you, I want the whole thing!" — Bob Barker
Tin Cup (1996)

My personal favorite is with Kevin Costner and Don Johnson going to battle for Rene Russo. Roy "Tin Cup" McAvoy is a former golf prodigy with something still to prove. Going against the "putt to win" and big money payday, Tin Cup celebrates a 12 shot par 5 hole in which McAvoy refuses to lay up…which is more realistic, at least to this weekend golfer!
Fun Fact – Costner trained extensively with Gary McCord to learn how to play golf. He helped Costner develop a swing and pre-shot routine…which we all should have!
Favorite Quote – "Can you people not see that I'm busy? I'm working. This is my office. Do I come to your office and ask for an autograph? I don't think so. Jesus. What an ugly dog." – David Simms (Don Johnson)
 What is your favorite golf movie?
Is there a great scene you can share?  Tell us below!